Solid Waste Gallery
← Landfill Services—Groundwater and Gas Monitoring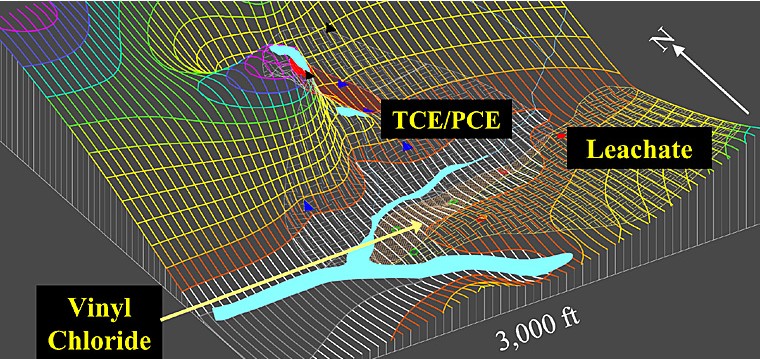 Landfill Services—Groundwater, Surface Water and Gas Monitoring →
Landfill & Industrial Services— Chlorinated VOC Plume Identification and Response
Northern Wisconsin
Back to Main Project Gallery
Former Landfill Adjacent to a Manufacturing Facility
During routine monitoring of a municipal landfill, Sand County Environmental discovered chlorinated solvents (CVOCs) in groundwater near the landfill. However, because the landfill had no indications of CVOC contamination, other, nearby potential sources were evaluated.  This required:
Evaluating existing monitoring and private well data to identify private wells potentially at risk.
Considering complex basin groundwater mixing and reductive de-chlorination (species change) of the CVOCs.
Eventually, the large CVOC plume was mapped in detail and the non-landfill source area identified.  Solving this very complex case required a synthesis of aquifer, geology, geochemistry, basin and bedrock geometry, and other data.  Ultimately, Sand County Environmental, presented the methods and results of this extraordinary work in a lecture at the Midwest Ground Water Conference.